SAN FRANCISCO SALAD CO.
Located in downtown Honolulu, the San Francisco Salad Co. and it's owner, Phil Mowrey, have graciously provided shelf space to bring attention to Love A Cat Charity's work. At times, they've posted pictures of kittens available for adoption, with the hopes of finding a good home among their many customers.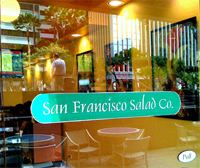 If you're in the area, please be sure to visit them. They are open Monday-Friday, 10:30am – 3:30pm at the following locations:
The Avenue of Shops at Bishop Square (Tamarind Park),

1003 Bishop Street 

The Arcade at Pioneer Plaza,

900 Fort Street Mall
Your online searches or purchases can help raise money for Love A Cat Charity! Click the GoodSearch logo to get started.
LINKS to sites that do similar work