Welcome to Love a Cat Charity
Helping to Control the Growth of Hawaii's Cat Population… With Love
Welcome to Love a Cat Charity
Helping to Control the Growth of Hawaii's Cat Population… With Love
We have Kittens!
These kittens are available for adoption to INDOOR homes. All have been tested for major diseases, dewormed, treated for fleas and spayed or neutered. They have been raised indoors and are litter box trained. Please email us if you're interested!
Dandelion
Dandelion is the perfect cat for someone who prefers a calmer kitten. She adores curling up in your lap and once you find her favorite spots to be pet she turns into a purring machine. She melts right into your hands and is the most affectionate after you earn her trust. She loves to be adored.
Ciri
When you think of the perfect kitten you think of Ciri. She is equally affectionate, curious, playful, and social. She would do well in a home with other cats or even by herself. She is so energetic shes almost like a dog and she seeks out your affection. She adores toys and loves to play all day. She would be a wonderful fit for a first time cat owner.
salsa
Here is little Salsa. This sweet calico ran up all by herself (no others were found) to a Love A Cat volunteer who happened to be exercising near her. She immediately insisted on being picked up and loved.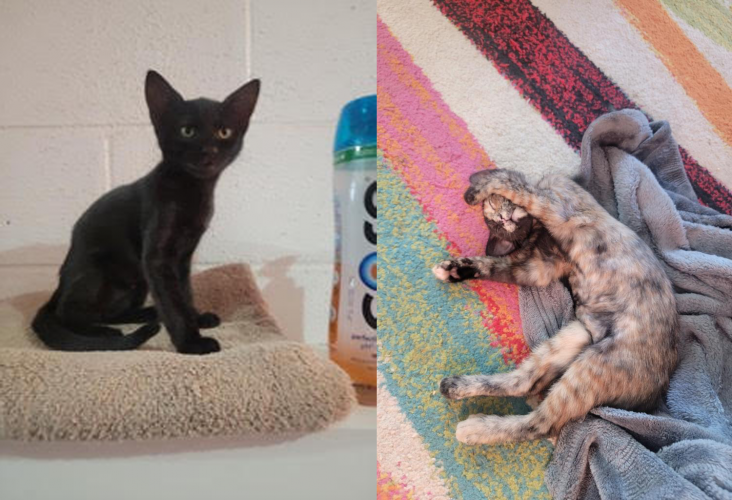 Merlot and Mercy
Mercy may be the very sweetest kitten who ever lived – 'enough said.  This little gentle, loving soul has been raised by a family who has been gentle, and kind and she has returned the favor by being the very best friend this little boy could have. Mercy and Merlot would love to be adopted together.
Merlot and her best bud, Mercy love to play. This kitten will entertain you totally with her antics. She loves to do her own thing OR snuggle. She has been raised with children and dogs and expects that everyone will adore her. These two would LOVE to be adopted together.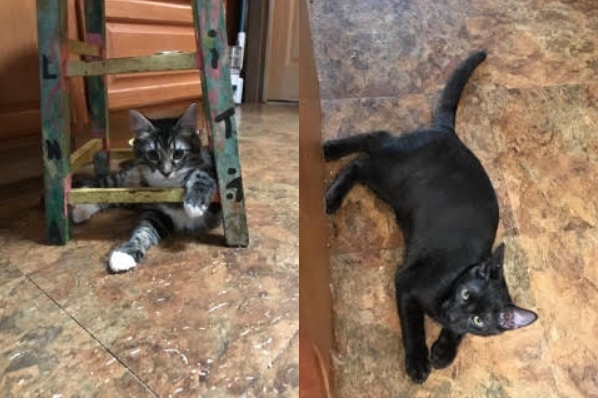 Happy and Tickle
HAPPY (Medium hair with Maine Coon roots) and TICKLE (a rare Havana Brown heritage) are never very far away from each other. In these pictures Tickle is just around the corner from Happy. This bonded pair of playful brothers obviously had different fathers. Happy and Tickle were lucky to be with their loving mom for the first weeks of life. Then they were brought to us. Because of a skin problem (totally solved) they could not be adopted until now. This somewhat shy pair love to play AND love to be petted. They are exceptionally beautiful and best with adults only, other cats and dogs. These two hope to be adopted together
Purr Bucket
Born in a horse barn, sweet little "expects the best", snuggle bug, Purr Bucket was raised indoors around lots of people.  He is now fixed and has his first shots. He is 3+ months and ready to snuggle. He just loves people and purrs loudly when petted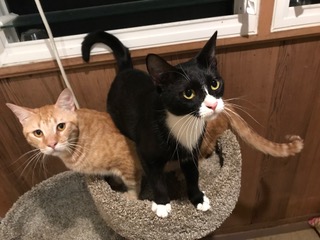 Button and Pocket
These two sweet babes "won the cat lottery".  They are the only two surviving kitties of their litter.  These must be adopted together as they have always been together.  Pocket (the tuxedo female) LOVES to sit in your lap and give you kisses.  Sweet Button wants to be by your side always and likes to chat with you. These are two cats that LOVE people.
These two beautiful 1 year old babes were born from an FELV+ mom, and they contracted the disease from her.  So they must be indoor cats for their life times so they will not pass on FELV to other cats.  Please read about the possibilities for a regular lifetime for these babies online.  FELV cannot be passed on to people or dogs, just other cats.
We are hoping for a miracle person who has no other cats to adopt Button and Pocket together.  They will promise to adore you forever!!!
Plume
Plume was found by a tourist with an injured front leg.  We think this little sweetheart just could not keep up with her litter and Mom had to leave her behind.
Turns out Plume is the lucky one.  Her leg is healing nicely and she is loved and SO happy.  Her foster mom reports her loving her new family (cats and "servants").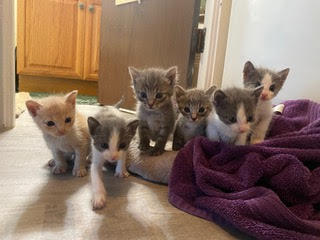 Nature Litter
Born in the back yard of some kind people and abandoned by their mom for reasons unknown. They will now be raised indoors and up for adoption the first week of November.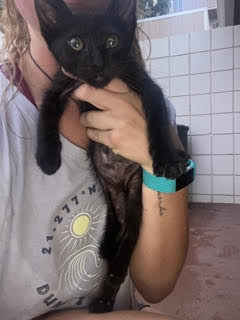 Batman
This little man will fly into your arms for love.  Batman is coming to a website near you, soon!